Mm milano 3-day-event around dubai world fashion week 2020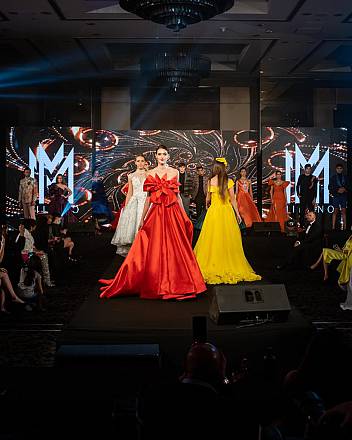 MM Milano 3-Day-Event around Dubai World Fashion Week 2020 #sustainablefashion | #globaltalents | #runwaymusic
MM Milano is an emerging Sustainable Brand from Milan, Italy & Frankfurt, Germany which unites the attributes of High Fashion, Talent Development and Music Production in unforgettable events around the world. We, the MM Milano Team around our Philippine Founder and Chief Designer Chona Bacaoco and the brothers Andréas & Martin Volkmar are proud to announce that our MM Milano 3-Day-Event around Dubai World Fashion Week from 18-20 December 2020 has been a great success for our Brand and all our global talents coming together to form a conscious community in fashion, sustainability and social responsibility. We thank everyone who helped raising money for Buklod Kalinga orphanage in the Philippines in partnership with Filipino football player Simone Rota, and are honored having received the "Designer of the Year" award.
On 18 December 2020, during Dubai World Fashion Week in cooperation with Vivz Fashion School from India, our talents showcased MM Milano's new sustainable High-Fashion collection for Kids, Teens & Adults, called "MM Celestial", designed by Chona Bacaoco in Milan, Italy. This show brought together our global talents - from the US & UK to Switzerland, from Romania to the Philippines - and revealed, for the first time, our new dresses made of natural Hablon & Pineapple Silk fabrics produced by our local Philippine partners as well as recycled materials that were given a second life. The audience cheered at unique designs inspired by Philippine heritage and flowers like the exotic native flower Waling-Waling influencing the "The Waling-Waling-Dress".
Our colorful dresses were accompanied by our very own runway music composed by music artist Andréas Volkmar who was honored to receive the award for "Best Runway Music" for his song "Sleepless People" by H.E. Sheikha Dr Hind Al Qassimi, H.E. Sheik Sultan Al-Qasimi and H.E. Sheikh Dr. Saeed Bin Tahnoon Al Nahyan. Further awards for their extraordinary efforts were given to our MM Talents Schirin Alexa Thoma-Jugl for "Achiever Model of the Year", Kayla Nicole Solis for "Charitable Model of the Year" and Natalia Angelina Spanhel for "Promising Model of the Year" alongside other famous awardees. Our young singer from Romania Maria Cristina Flăcău a.k.a. "Maya Rose" thrilled the crowd by performing her new single "Someone" supported by the Philippine dance group PiNoy DXB Crew, and was awarded "Model & Artist of the Year".
Apart from the fashion show, on 19 December 2020, the MM Milano Team together with its global talents had the unique opportunity of carrying out a professional photoshoot and fashion walk in the beautiful desert of Dubai together with the incredible Production Team around Mau Piodena IV. On 20 December 2020 our 3-day activities concluded with a Get Together ("ESG Meet & Greet") with all our MM Milano Talents and their families at a lovely place outside of Dubai where we set the foundation for creating a conscious MM Milano community.
We are proud to already have formed a community of fascinating personalities, among them our model of determination from the US, Olivia DePiore, who's journey for sure is a very inspirational one. That is why she was awarded "Achiever & Inspiring Model of the Year" after she had rocked Dubai's runway. Olivia is a cancer survivor, a Down-Syndrome editorial, commercial and runway model, she is a beauty-queen, an actress and stage performer. Olivia will continue to travel with us and enrich our community by being a model and great inspiration.
We will carry on to pursuing our mission and vision embodied in the MM Milano Brand culture.
---
Mappa e posizione dell'evento